426 am ET: It is early in the morning and LaughingPlace.com is getting ready for the Rock Your Disney Side 24 hour extravaganza. We have contributors on both coasts that will be covering the event here. Please join us through 6am PT, for all of the fun.
617 am ET: The party has begun at the Magic Kingdom. The regular Magic Kingdom Welcome Show was augmented with Heroes and Villains. As a special treat, guests have found that the Seven Dwarfs Mine Train has soft opened for guests.
703 ET: The Seven Dwarfs Mine Train soft opening has been successful. It is currently posting a 180 minute wait. (For the record, Anna and Elsa are posting a 240 minute wait). Disney has also shared that the Pirate League will be offering their Halloween packages of the zombie and a sea siren today. The Pirates League will have extended hours until 10pm tonight. Reservations are still available.
604 am PT: Josh Gad, the voice of Olaf, led the countdown to the opening of both parks at the Disneyland Resort. A san sculpture of Olaf is currently being created at the Disneyland Resort's esplanade.
947 am ET:
An Orange Bird Caramel Apple has appeared at Big Top Souvenirs and Main Street Confectionary. According to Disney Parks it will be available at other locations following today's event.
652 am PT: If you couldn't make the event, Disney Store is selling both the Disneyland and Magic Kingdom versions of the event shirt for a limited time.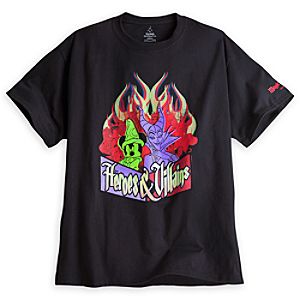 Disney Heroes and Villains Tee for Adults – Walt Disney World – Limited Availability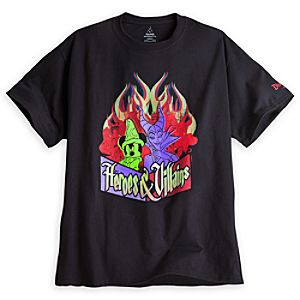 Disney Heroes and Villains Tee for Adults – Disneyland – Limited Availability
757 am PT: Extra! Extra! Read all about it! A special edition of the Buena Vista Bugle celebrates 24 hours of Disney fu
1143 am ET: D23 had a special surprise for members at the soon-gone Magic Kingdom Rose Garden. Disneyland guests, follow D23 on Twitter as Cynthia is about to board a plane headed your way. She might have some surprises for you too.
941 am PT: Apparently guests are already pooped at the Disneyland Resort. The Animation building at Disney California Adventure has turned into a nap location. #ShowYourSleepingSide

1037 am PT: Apparently the Boudin Bakery at DCA has learned how to make bread out of vibranium
140 pm PT: Disney artist Noah created a chalk drawing that celebrates summer. It will be donated to Autism Speaks for auction.
520 pm ET: Disney is handing out these buttons to promote Maleficent. Are you showing your villainous Disney side?
550 pm ET: We spotted several Disney Channel stars throughout the Magic Kingdom. This included Peyton List from Jessie, Spencer Boldman from Lab Rats, and Laura Marano from Austin & Ally. Do you think they will be here the whole 24 hours?
448 pm PT: There are a lot of special food options at the Disneyland Resort. Do any of these Maleficent items at Award Weiners sound good to you?
953pm ET: Wishes was the first nighttime spectacular of the event. But with two performances of the Main Street Electrical Parade at the Magic Kingdom,  the Magical fireworks show and Fantasmic at Disneyland, and two shows of World of Color at Disney California Adventure… there is still plenty of time to rock your Disney side
1001 pm ET: Phil Holmes, Vice President of Magic Kingdom, and Tara Anderson, Disney Entertainment talk about how guests can rock their Disney Side this summer.

1023pm ET: Reports that the Magic Kingdom parking lot is closed due to capacity. Guests are being redirected to park at Epcot and then take the monorail to TTC and then Magic Kingdom. It should be noted that Epcot is open until midnight tonight.
1110pm ET: The villains "Good to be Bad" pre-parade features a lot of rare characters. It also features a cameo from the Celebrate a Dream Come True Parade.
1253am PT: According to a post from D23, Disney Channel stars Spencer Boldman and Laura Marano made the cross-country trip as they appeared in Cars Land.
105am PT: A rare nighttime performance of Mickey's Soundsational Parade has stepped off at Disneyland Park.
116 am PT: It's time for D23 Members at Disneyland to Rock Their Disney Side.
622 am ET: The party concluded with the a sing-along of the Mickey Mouse Club Alma Mater at the Main Street Train Station. While Magic Kingdom has ended its operating day. The party is still going strong at the Disneyland Resort.
405 am PT: As a special moment, Maleficent from the upcoming live-action film met guests at Disney California Adventure and the Magic Kingdom. While we were rocking at the dance party, Shelly from OnTheGoInMCO was rocking her evil side with Maleficent.
520am PT: With just 40 minutes to go, guests are still rocking at the Disneyland Resort. It's fun to think that our contributor that is at Star Wars Weekends today has already experienced 3 attractions before Disneyland has ended yesterday's operating day.
600am PT: After 27 hours, the Rock Your Disney Side event is over. All of us at LaughingPlace.com would like to thank the Cast Members of both Walt Disney World and the Disneyland Resort for working extra long days to plan and execute this event. You bring Disney fans memorable experiences like this every day. For that, you can never be thanked enough.
FanBoy is a Disney dweeb who has worked at Disneyland and Walt Disney World