From Marvel.com:
Marvel and Netflix are proud to announce that Mike Colter will star as Luke Cage in "Marvel's A.K.A. Jessica Jones," an all-new 13-episode series premiering on Netflix in 2015 following "Marvel's Daredevil."
During the course of an investigation in New York City, private investigator Jessica Jones encounters the enigmatic Luke Cage – a man whose past has secrets that will dramatically alter Jessica in ways she could never have imagined.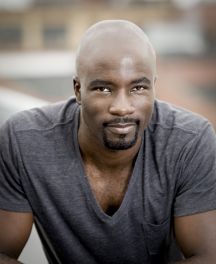 Colter will star opposite Krysten Ritter, who plays the title role in "Marvel's A.K.A. Jessica Jones."
"Mike embodies the strength, edge and depth of Luke Cage," said Executive Producer/Showrunner Melissa Rosenberg. "We're excited to have him bring this iconic Marvel character to life."
"Fans have longed to see Luke Cage brought and in Mike we've found the perfect actor," said Jeph Loeb, Executive Producer/Marvel's Head of Television. "Viewers will get to meet Luke Cage in 'Marvel's A.K.A. Jessica Jones,' and experience why he is such an important super hero in the Marvel mythos."
Colter is currently starring in the Microsoft's original series "Halo: Nightfall" as Jameson Locke. He has appeared in a number of critically-acclaimed television series, including "The Good Wife" and "American Horror Story: Coven."
After a tragic ending to her short-lived super hero stint, Jessica Jones is rebuilding her personal life and career as a detective who gets pulled into cases involving people with extraordinary abilities in New York City.