Welcome to Disney Extinct Attractions. My name is Cole, and I'll be your guide on today's journey into some of the ways that Disney Channel has made its ways into the Disney Parks.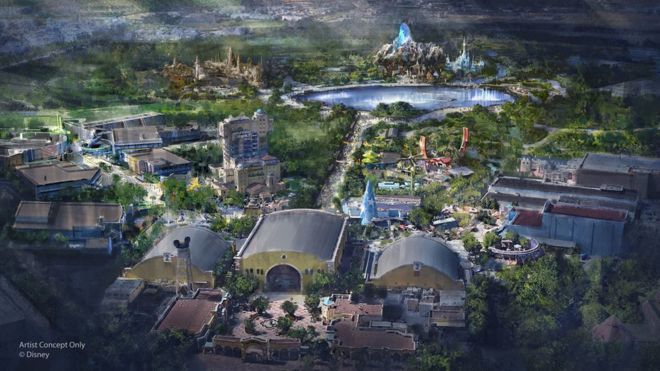 This past Tuesday, Disney CEO Bob Iger announced that Walt Disney Studios Park in Paris will be receiving a €2 billion expansion, in a revival effort similar to what happened to Disney California Adventure a few years ago. This addition will nearly double the size of the park and add attractions based on Marvel, Frozen, and Star Wars. Personally, I'm not a huge fan of the overload of IP (Intellectual Property) in the Disney Parks, but I really like these additions to the park. Walt Disney Studios Park is a place where the movies become real, so this is the perfect park to add these types of attractions. So personally, I am super excited to see how these attractions go and also to have a third Star Wars Land around the world.
Recently, it was also announced that Disney had begun casting a live-action Kim Possible film, based on the Disney Channel animated television show from the 2000s. The show has a lot of fans from back in the day, so Disney has decided to bring it around for a new audience. But if we go back a few years, we can see a time and place when Kim Possible was popular enough to have her own attraction, starting in the summer of 2006, the Kim Possible World Showcase Adventure.
The Kim Possible World Showcase Adventure was unique in that it could take you to one of seven different countries located around the World Showcase in Epcot. After a quick stop to pick up a pass that would tell you which country of your mission would be in as well as the time it would begin. With the anticipation rising, you make your way over to either Mexico, Norway, China, Germany, Japan, France or the UK and your mission begins.
For today, your mission, found above, takes you to the UK Pavilion, where Wade reaches you on your Kimmunicator that you picked up from some helpful team members. Your mission, regardless of country, consisted of trying to stop a different villain from the Kim Possible television show that had a connection to the country where your mission took place.
You would use your Kimmunicator to connect with Wade, who would help you throughout your entire journey to stop the villain and help Kim and Ron escape from any situations that they find themselves in.
Throughout the way, you would have to explore the land, and you might even get small prizes like a bag of tea. But you have to remember that when you finish your mission, you have to return your Kimmunicator, so other team members can help solve these mysteries.
Now that you have an idea of what this attraction entailed, can I just say how cool of an idea it was? Generally, I have noticed that kids are less interested in World Showcase than adults (at least I was), so adding in a way for kids to be engaged and explore a lot of different areas from each country was super awesome to me. Plus, with seven different countries being a part of this attraction, the adventure could stay new and fresh multiple times throughout one vacation. It was one of the most innovative attractions that I have seen the Disney Company build, especially considering that they were using reconfigured LG phones instead of smartphone technology that we have today.
My favorite part is how they managed to take areas of the park that had been creating over two decades earlier and added in small little details for people to find and interact with. The idea is not dissimilar to the Sorcerers of the Magic Kingdom that is in the Magic Kingdom today, and I believe it was a precursor to the attraction. (I can't prove that, though, but it makes sense in my mind.)
The only downside to the attraction was that once you had completed all the missions, there wasn't much of a reason to repeat them because they followed the same pattern every time. So repeatability and the fact that the attraction officially opened on January 28, 2009, nearly two years after the television show had officially ended, meant the attraction was never super popular to begin with.
Ultimately, this combination led to the attraction's closure on May 18th, 2012 to transform into Agent P's World Showcase Adventure, based around the hijinks of Agent P, aka Perry the Platypus, from the show Phineas and Ferb. The "new" attraction is nearly identical to the Kim Possible World Showcase, with your goal to go on a mission with everyone's favorite platypus secret agent. Agent P's World Showcase Adventure is still in the park today (and now you can play on your smartphone), making it the only major Phineas and Ferb-themed attraction still left. But luckily for us, there was another attraction that is now extinct, Phineas and Ferb's Rockin' Rollin' Dance Party.
Making its home over in Disney California Adventure, this dance party debuted on July 9th, 2011, nearly a year before Agent P took over World Showcase. The show was known for its catchy songs that got in the head of audiences everywhere, so this attraction gave everyone the chance to go around the park for the rest of the day humming "Gitchee Gitchee Goo" (means that I love you) to themselves for the rest of the day. But before I go any further, you can look below for a chance to experience the attraction yourself.
Performed outside of Ariel's Undersea Adventure, this show rolled onto the stage after a similarly themed High School Musical show had gotten a little too old. In the show, Phineas and Ferb would drive in on their car alongside some Fireside Girls for a dance party geared towards all ages (but mainly kids). The show also had a human host who would rally up the crowd and get everyone excited to dance to the multitude of songs that were featured on the show.
Additionally, the show received a holiday overlay each Christmas season that it was around, helping establish it as a show that moved beyond just a fun little addition to the park. It shows that Disney cared enough to put in the time to change things up each holiday season, and I really appreciate the effort on their part.
Overall, I thought Phineas and Ferb's Rockin' Rollin' Dance Party was a pretty pedestrian attraction, but I did really like how much fun it seemed like all of the cast members were having, especially Phineas and Ferb. Plus, I really enjoyed the blast from the past that the songs gave me because I was a pretty big Phineas and Ferb fan back in the day. But ultimately, the television show's popularity faded as did this show, so it came to a close on November 2nd, 2014 with the Green Army Men taking over the mantle to this day.
That brings today's journey to a close, but here's your traditional peek at next week's post.
These attractions both made their homes in early Disneyland.
These attractions had a Frontier vibe to them.
One of these attractions was on the waterside, while the other was literally on the water.
I hope you enjoyed this week's post about how the Disney Channel used to have more of an impact within the Disney Parks.
Thanks for reading and have a magical day!