Welcome to Disney Extinct Attractions. My name is Cole, and I'll be your science guy on today's look into energy and its effect on Epcot.
This week, we got another trailer for Wreck-It-Ralph 2. I'm not a huge fan of creating theatrical sequels to Disney Animated Classics, but from what I've seen from this film, I am super excited. It seems like it is blowing the world that the first film created wide-open, and all of the trailers have kept me laughing throughout.
Thinking about Wreck-It-Ralph, one often forgets that electricity plays an essential role in the film because without it video games cannot run. Electricity is really just harnessed energy, so with that in mind, energy has been a part of the Disney Parks for years, specifically if one looks at Epcot.
On October 1st, 1982, Epcot opened and quickly set itself apart from Disneyland and the Magic Kingdom for its focus on edutainment. Epcot's first few years were truly special, and I wish that I could have been able to visit it at that time. (It is still my favorite park at Walt Disney World, but it lacks the luster of its earliest days.)
There were so many awesome attractions in those days like Horizons, Journey Into Imagination and World of Motion. On this blog, I've talked about nearly every single attraction from the mid-1980s, but there is still one huge attraction that I'll be talking about today, Universe of Energy.
Opening along with the park, Universe of Energy did a great job of living up to its name by installing solar panels on its roof. At the time, commercial use of solar power was still in its relative infancy, so Disney was ahead of the times (as usual). The solar panels were used to provide nearly 20% of the power needed for the vehicles inside the attraction.
Now, 20% may not sound like a lot, but when you consider that these vehicles could hold nearly 100 people each and would run about six at a time, that 20% begins to seem a lot bigger. The vehicles were my favorite part of the attraction because they could come together to form a movie theater of sorts, but also move individually to progress through show scenes. This technology was so far ahead of its time, and I'm amazed by the Imagineers' ingenuity to discover how to make this work.
'
In terms of the actual story of the attraction, I do think that it left a bit to be desired because it was a bit slow. I found myself getting bored throughout the 36-minute attraction that combined both a show and a dark ride. The show was pretty didactic and basically preached the values of clean energy. Yes, it is all useful information that should be shared with the masses, but if I was a child going on this attraction, there's a chance I would fall asleep.
However, there were some awesome parts like the kaleidoscope screen used for the preshow. This screen was made up of movable panels that managed to display motion in a way that is simply impossible with a regular screen. I wish that we could see screens like this utilized in attractions today because I was amazed seeing how cool the flowing ocean looked.
Finally, we've reached the highlight of the attraction, the dinosaur diorama. Taking inspiration from the Primeval World portion of the Disneyland Railroad, these scenes clearly stole the show. These animatronic dinosaurs were so cool to watch, even if the scenes were darkly lit, making it a little difficult to see them.
Now, I love the dinosaurs, but my favorite part of the attraction is actually that Universe of Energy is a perfect example of Epcot '82. Sure, it isn't the most fun attraction, but you were guaranteed to learn a lot on it, and it still had cool aspects that made it very unique. Put that together and you have the quintessential original Epcot attraction.
However, like the rest of early Epcot, its appeal wasn't high enough to justify keeping it around, so Universe of Energy closed on January 21st, 1996. It wasn't quite the end for Universe of Energy, though, because during the summer of 1996, the entire west side of Future World was closed except for the Wonders of Life pavilion. Universe of Energy thus reopened for the summer before closing to complete its transformation into its new form.
In the mid-1990s, Ellen Degeneres was slowly but surely making herself a household name with her television show Ellen. The ABC show earned her four Emmy nominations, so when Disney was looking for a comedian to headline their revival of the Universe of Energy, they needn't look any further than Ellen.
Her humor added a much needed levity to the attraction that helped it move past being a straight educational journey from start to finish. Plus, the show featured Bill Nye the Science Guy, so we had two great comedians coming together to create a new twist on energy.
Opening on September 15th, 1996, Ellen's Energy Adventure began with a game of Jeopardy where Ellen was trying her best to succeed at energy-based questions, but could not do better than her snotty rival Judy (Jamie Lee Curtis). Luckily, this game was taking place inside of one of Ellen's dreams, so Ellen called for some help from Bill Nye to help her take down Judy.
Luckily, Bill knew just the trick, taking Ellen back in time to the prehistoric era to learn about fossil fuels and other kinds of energy.
After watching these events unfold through a preshow and your initial seating in the giant vehicles, you progressed through a dinosaur scene that would look very similar to fans of the original with one exception, an Audio-Animatronic of Ellen herself. (Though this animatronic would be removed in December 2014 because it went through a bit too much wear and tear over the years.)
Once you had made your way through prehistoric times, it was a quick trip back to the closing show where guests would watch as Ellen, armed with all of her new knowledge, trounced Judy to take the crown.
Ellen's Energy Adventure managed the impressive feat of outliving its predecessor by nearly seven years. By the early 2000s, Ellen's popularity seemed to be dwindling, but then she began to host her own talk show in 2003, immediately bringing her back into the public spotlight as it became one of the most-decorated talk shows of all-time. I am sure that this resurgence helped the attraction last for as long as it did because Ellen's character in the show feel a little less outdated. However, by 2017, the attraction itself was beginning to feel a little long in the tooth and brought in almost no crowds. So on August 13th, 2017, Ellen's Energy Adventure ended its time in Epcot with a bang.
The attraction broke down on the very last ride-through of the day, so the attraction became more of a walk-through where guests disembarked from their vehicles and got to walk through the attraction taking as many pictures as they wanted. It is so especially fitting that an attraction all about energy managed to run without energy on its very last go round.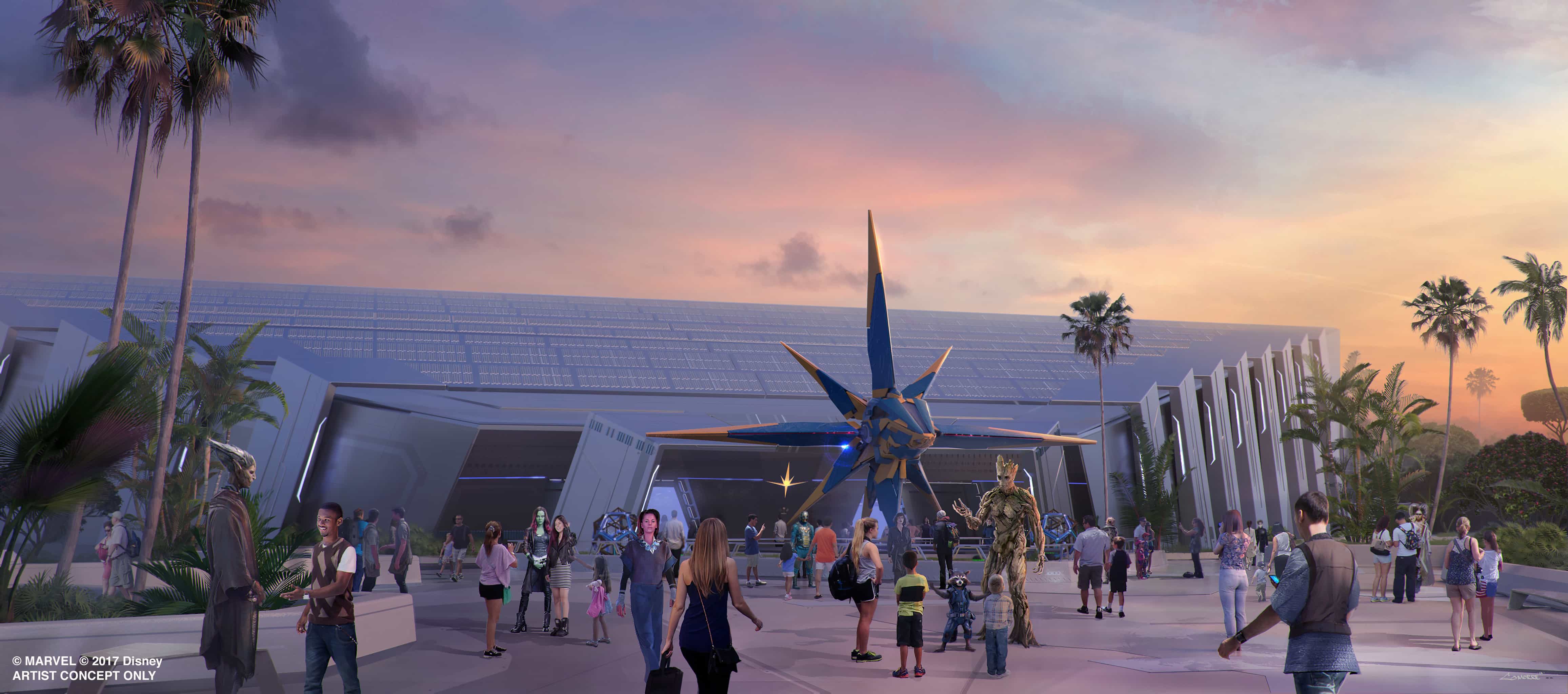 By 2021, the Guardians of the Galaxy will be joining Epcot in the place of Ellen's Energy Adventure. I am a bit sad that it seems like this pavilion will no longer be dedicated to energy, but I am excited to have an all-new experience with the Guardians.
Overall, I think both versions of Universe of Energy were fantastically crafted. but are very hard to compare. The original gave so much information, but Ellen's version had that funny Disney touch as well as a classic Disney feel-good story. I guess I would choose Ellen's Energy Adventure, but I would be content with either because they carried the same message so perfectly in sync. Few replacements have been able to keep the spirit of their predecessor alive in such a seamless way.
So that brings today's trip to a close, so here's a look at next week's.
These attractions appeared at the same international resort.
These attractions had to do with imagination and the movies.
These attractions never seemed to stay in place.
Thanks for reading and have a magical day!